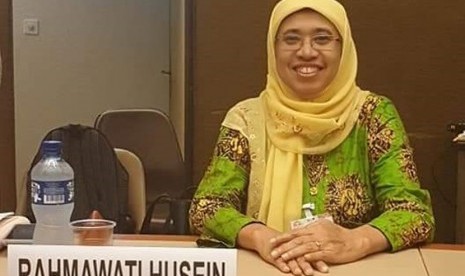 REPUBLIKA.CO.ID, YOGYAKARTA – Deputy Chairman of the Muhammadiyah Disaster Management Center (MDMC), Rahmawati Husein, received an award from Texas A&M University. Ama was named an outstanding alumni of the College of Architecture. The award was received by Ama at the Hildebrand Equine Complex, College Station, Texas, USA, Thursday (11/14). The award was given at the 50th anniversary of the Texas A&M University School of Architecture.
Ama and five other alumni were awarded the award as outstanding alumni. They are considered to have contributed not only to knowledge, but to policies and change. Starting from the community level, national and global. In her acceptance speech, Ama mentioned the importance of education, support and examples and values ​​taught at universities and lecturers.
Ama also expressed her gratitude for the support she received from various parties. Starting from family, friends, universities, Muhammadiyah University of Yogyakarta to MDMC where he serves. "The humanitarian challenge will continue, for this reason this award will be a trigger to continue to contribute more to global humanitarian problems," Ama said.
Texas A&M University itself annually awards its outstanding alumni. 193 people have received awards for more than 20,000 graduates. Rahmawati Husein became the second international alumni to receive this award. Because, the majority of award recipients so far have come from the United States. MDMC Chairman of PP Muhammadiyah, Budi Setiawan, expressed his appreciation to Rahmawati Husein. He considered that achievement was a sign that Muhammadiyah would continue to produce world-class cadres.
Budi stressed, this achievement should be a motivation for anyone in MDMC. Mainly, to continue to contribute to global efforts in the context of disaster risk reduction.
"This award motivates the entire MDMC extended family and Muhammadiyah volunteers throughout Indonesia to provide the best for humanity and people through the Muhammadiyah Association," Budi said.
Source By: https: //www.republika.co.id/amp/q10cmx399